- Funding and Scholarship Opportunities for science and technology fields, studying in Japan
Japanese academic calendar starts from April or October
---
MEXT Scholarship in Japan
Every year, Japan's Ministry of Education, Sports, Culture, Science and Technology (MEXT) provides scholarship to South Africans through the Embassy of Japan in Pretoria. It covers round-trip airfare, tuition, and monthly allowance.
Your applicaiton must be sent to the Embassy of Japan in Pretoria. by no later than 24 May 2021.
1. Research students (master's course, doctoral course, or professional graduate course)
Applicants should apply for the field of study they majored in at university or its related field. Moreover, the fields of study must be subjects which applicants will be able to study and research in graduate courses at Japanese universities.
2. Undergraduate students
Those who wish to study in Japan as an undergraduate student must choose a field of study (major) from (1) or (2) below. Applicants may enter a first, second, and third choice.
(1) Social Sciences and Humanities
1-A: Law, Politics, Pedagogy, Sociology, Literature, History, Japanese language, others.
1-B: Economics, Business Administration.
(2) Natural Sciences
2-A: Science (Mathematics, Physics, Chemistry), Electric and Electronic Studies (Electronics, Electrical Engineering, Information Engineering), Mechanical Studies (Mechanical Engineering, Naval Architecture), Civil Engineering and Architecture (Civil Engineering, Architecture, Environmental Engineering), Chemical Studies (Applied Chemistry, Chemical Engineering, Industrial Chemistry, Textile Engineering), other fields (Metallurgical Engineering, Mining Engineering, Maritime Engineering, Biotechnology).
2-B: Agricultural studies (Agriculture, Agricultural Chemistry, Agricultural Engineering, Animal Science, Veterinary Medicine, Forestry, Food Science, Fisheries), Hygienic studies (Pharmacy, Hygienics, Nursing), and Science (Biology). Natural Sciences
2-C: Medicine, and Dentistry.
Those application(s) should (be) sent to
Cultural Section of the Embassy of Japan in South Africa
Postal address: 259 Baines Street, Groenkloof, Pretoria, 0181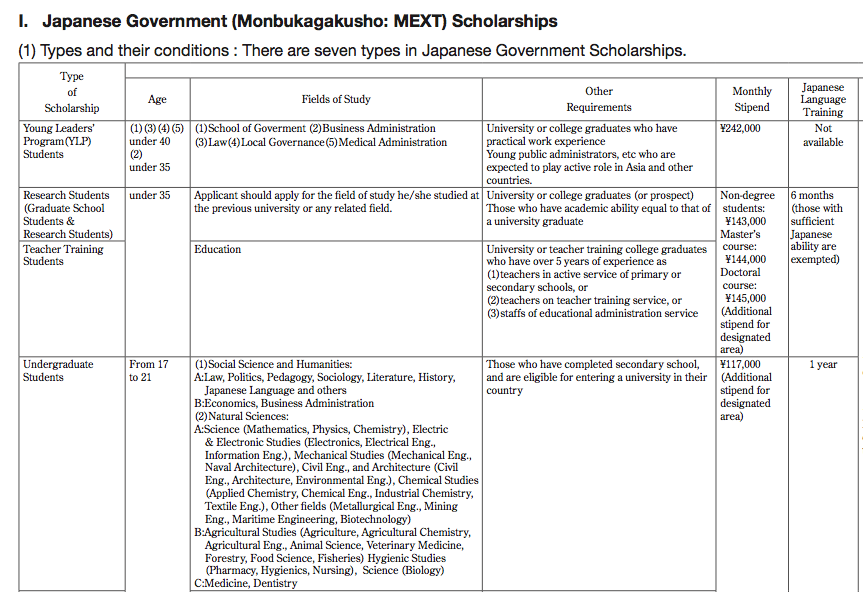 (click to See PDF)

For more details on 'Study in Japan', please visit



and


---
ABE Initiative for Master Degree and Internship in Japan
Application Duration: Closed
-> Guideline
Area of Study: Master Course and Internship in Japan


Space Science and Technology, Marine Science and Technology, Engineering, Robotics, Material Sciences (including high temperature and titanium), Mining, Medical Science, Environmental Science, ICT, Agriculture, Animal Husbandry, Business Administration, Law, and Governance

Contact: Ms Gcino Mlaba, Deputy Director: Developments Partnerships


Department of Science and Innovation
Tel : +27 12 661 6359
Fax : +27 86 649 0695
E-mail: Kagiso.Moloto@dst.gov.za

---
SDGs Global Leader Scholarship
Application Duration: Closed
-> Guideline
Level of Study: Master's or Doctoral Course in in Japan

Contact: Ms Gcino Mlaba, Deputy Director: Developments Partnerships


Department of Science and Innovation
Tel : +27 12 661 6359
Fax : +27 86 649 0695
E-mail: Kagiso.Moloto@dst.gov.za

---
RIKEN Special Postdoctoral Researcher in Japan
RIKEN strives to provide the best and most exciting opportunities for young scientists in the crucially important early stages of their career. One manifestation of this support comes in the form of RIKEN-funded short and long-term programs for those wishing to join RIKEN in the fields of physics, chemistry, biology, medical science or engineering. For more information, please visit to their offical website.
Research fields
Physics (Physics I: particle, nuclear, astrophysics, etc.)
Physics II: condensed matter)
Mathmatical Sciences
Chemistry, biology, medical science (brain science, neurons, immunology, etc.)
Engineering that relate to research being conducted at RIKEN
---
Other Scholarship Listed by JASSO
Eligible for South Africans living in Japan"
As an independent administrative institution under the MEXT, Japan Student Services Organization

(JASSO), comprehensively administers scholarship loan programs, support programs for international students, and student support programs.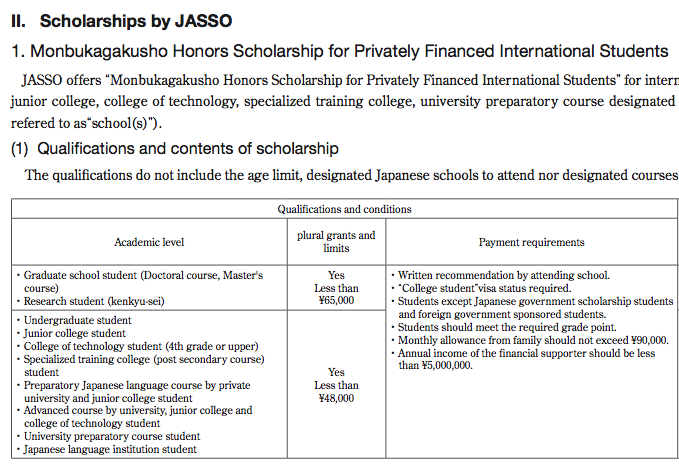 (By JASSO)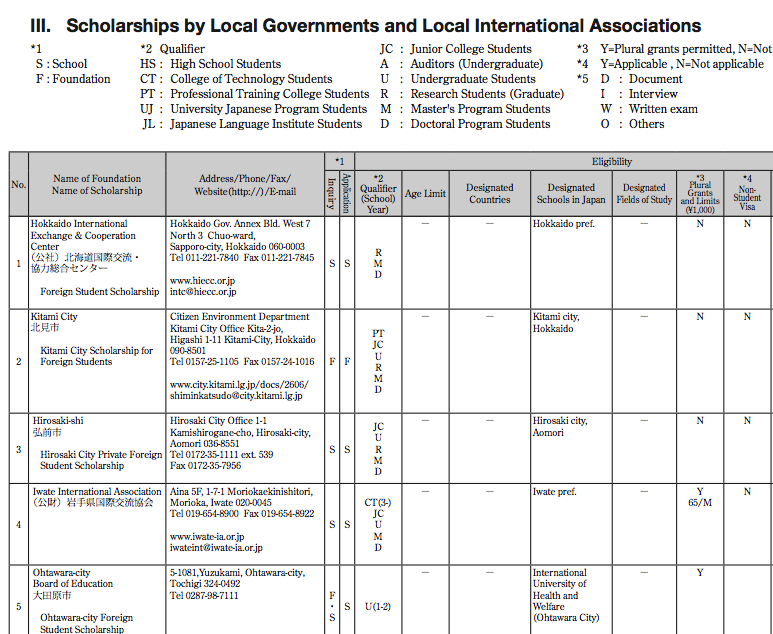 (By Local Government)
---
- Funding and Scholarship Opportunities from South Africa
South African Research Chairs Initiative
The South African Research Chairs Initiative (SARChI) The South African Research Chairs Initiative (SARChI) was established in 2006 by the Department of Science and Technology and the National Research Foundation. It is designed to attract and retain excellence in research and innovation at South African public universities through the establishment of Research Chairs at public universities in South Africa with a long-term investment trajectory of up to fifteen years. read more...
---
R&D Tax Incentives Programme
Companies undertaking scientific and technological research and development (R&D) in South Africa can qualify for a 150% tax deduction for operational R&D expenditure in terms of section 11D of the Income Tax Act. This incentive is available to businesses of all sizes and in all sectors of the economy as long as they are registered in South Africa. To qualify for the deduction, the R&D activities against which the expenditure is incurred must be approved by the Minister of Science and Technology.
The incentive is aimed at encouraging businesses to invest in R&D in South Africa. The objective is to help companies build capabilities and innovations by creating new products, processes, devices and techniques, and/or significantly improving existing ones. This incentive is part of a package of measures that the government of South Africa has introduced to support R&D-led innovation, industrial development and employment creation.
The Taxation Laws Amendment Acts in 2011 and 2013 introduced enhancements to the existing R&D tax incentive provided in terms of section 11D of the Income Tax Act, clarifying the intentions of the incentive and introducing a pre-approval process for R&D activities undertaken after 1 October 2012, as opposed to the retrospective submission of information for R&D undertaken before this date.
Application process
To access the incentive, a company must complete an application form (www.dst.gov.za/r-d) and submit it to the Department of Science and Technology (DST), which is responsible for the administration of the process. DST officials can provide information and assistance regarding completing the application form. Read more.
It is important to submit the application before starting to conduct the R&D in question because only expenditure incurred on or after the date on which the DST receives the application will be considered for the incentive.
---